Fall In Love With Your Home Again: Practical Upgrades From Easy to Advanced
Whether you're new to your home or you've been there for years, we've all felt that home improvement itch. Maybe a room in your house just needs a little refreshing- a little can certainly go a long way! Maybe your home is in need of more drastic measures and you're ready to put in the work. That's why we've organized some of our favorite ideas by category from how easy a project may be to how advanced. Find your inspiration below and love the home you live in again!
Curb Appeal
Easy: Hide outdoor eyesores
There are a lot of potential eyesores around the exterior of our house: AC units, garbage cans, electrical box covers, garden hoses, vent pipes, and meters. This could easily become an elaborate project, but you can keep it simple! Easy additions include camouflage rocks for things that stick out of the ground, a specifically designed pot to store your garden house, outdoor partitions to hide the bigger things, or a shorter outdoor privacy screen for trash cans.
Intermediate: Mailbox makeover

We're not talking about ripping out and replacing the old mailbox- just touching up the one you already have! This is a small way to add a lot of personality! Maybe your makeover is under an hour with a good clean, spray painted numbers, and spray wood stain on the wooden posts. Or maybe you do a little more by adding new, stylish numbers and using leftover paint from upgrading your front door to match the accent colors on your mailbox. Make sure you are following all USPS regulations prior to starting this project by checking with your local post office!
Advanced: Invest in or rent a pressure washer

Want to keep the exterior surfaces of your property clean and attractive? A pressure washer helps to remove dirt, buildup, mold, and mildew from surfaces like your sidewalk, driveway, wood decks, sturdy outdoor furniture, and outdoor bricked or stone areas. While you can always hire a professional, this is something you may consider doing yourself. If you have a lot of surfaces that need cleaning and you have the money and storage space available to purchase a pressure washer, it may be great idea to invest in a budget-friendly option. Otherwise, renting is a great, cost efficient idea.
Entryway
Easy: Add a durable runner

Want to add a quick dash of color or personality? A runner in the entryway is a great way to brighten the space and protect the flooring at the same time. Since this is a high traffic area, opt for durable and easy-to-clean runners.
Intermediate: Organize the landing zone

Since an entryway is all about first impressions, clutter can really cause distractions. Finding an organization method that works for you can greatly improve the general appeal of the area, but also save you future headaches. There is no one right answer with this one, because there are a lot of factors to consider. How many people will be using this area? What is it's purpose? Is it more important for it to be functional and easy-to-use or tidy and out-of-sight? Nailing down the purpose of the space will greatly help guide you in the upgrade!
Advanced: Update the front door
Painting a door can have a dramatic effect on the overall feeling of your entryway. Determining what feeling you are hoping to give visitors as they enter can help you discover the color that best suits your desires. Looking for something modern and sleek? Try a black door against a white wall. Maybe something clean and calm? Give white on white a thought. Hoping for bright and happy? Use your favorite color! While you're at it, replacing the door handle and hardware can complete the look.
Living Room
Easy: Use warm lighting

One of the easiest ways to change the mood of any room is lighting. A great way to create a warm and inviting living room by replacing harsh, bright lights with warm, cozy lights.
Intermediate: Hang curtains the right way

Turns out there are a lot of good ways to hang curtains and a lot of less than ideal ways. Having the rod in line with the window, using a rod that is too short, and having curtains that aren't long enough are all ways to make your windows feel small and cramped. In general, hanging high and wide and finding the correct length and material can go a long way into giving you the luxurious feel you've been searching for.
Advanced: Have carpets professionally cleaned

According to The American Lung Association, carpets "may trap pollutants and allergens like dust mites, pet dander, cockroach allergens, particle pollution, lead, mold spores, pesticides, dirt and dust." This can pose health risks such as respiratory issues, skin irritants, allergies, and more. While regular vacuuming can help, it's best to have your carpet professionally cleaned yearly. The cost varies greatly dependent on factors such as carpet material, carpet condition, and carpet area, but keeping an eye out for special deals at cleaning companies throughout the year can help with the overall price.
Kitchen
Easy: Peel & stick backsplash
Peel and stick backsplash is one of the most budget-friendly and transformative DIY tasks out there for your kitchen. It's super simple, but there are a few smart tips to make it look like it was installed by a pro. Taking your time and putting in the proper preparation will have your kitchen transformed in no time.
Intermediate: Kitchen storage

Even though there is something aesthetically appealing about everything in the pantry being in pretty, matching, glass containers, there are plenty of other ways to organize your kitchen that may be more practical. There are a few good kitchen organization basics to keep in mind while your working on this project, but feel free to play! Think of this as your permission slip to try something different that makes the most sense for you.
Advanced: Kitchen cabinets makeover
There are so many ways to get creative with this project, but it can get pretty advanced pretty quick. Painting the cabinets may sound simple enough, but it takes some serious elbow grease. For someone who is very motivated and excited by the labor of love, the results can be drastic- and amazing! Some less intense options to update your cabinets may include spray painting or buying new hardware, removing doors to create modern and open shelving, replacing door fronts with glass, retrofitting the doors with soft-close hinges, or adding LED light strips underneath them to light the countertops.
Bathroom
Easy: Swap your shower curtain 
The shower curtain takes up a very large and obvious amount of visual space in a bathroom. That makes it one of the most ideal items to swap for a big and quick change. Before buying, consider the shower curtain material, measurements, colors, patterns, liner, rings, and shower rod.
Intermediate: Update your shower head
Replacing your shower head is easy and can make your shower time a more enjoyable and relaxing experience. Shower heads come in all shapes and sizes– detachable, adjustable, water-saving, waterfall, high-pressure, filtered, aromatherapy dispensing. Spend some time checking out all the options available and ensure that the one you choose is compatible with your bathroom hook ups.
Advanced: Refinish the bathtub
This is another one of those projects for the ambitious DIYer. Luckily, you can easily buy all that you need to complete the task by purchasing a tub and sink refinishing kit. At it's most basic, this involves painting a very hard, protective, epoxy layer on the surface of the tub. With a little patience, this is a much more affordable way to update an old, worn out bathtub than simply replacing it.
Bedroom
Easy: Under the bed storage

There are so many fun and stylish ways to add extra storage space under the bed. This is one of the fastest and most effective ways to help with a messy closet, too! Clear away some of that clutter by stowing away your winter clothes for the spring season or your formalwear between uses. One of the most simple options are the fabric container bags that often come with a handle and a clear window on top so that you always know what's inside. However, the options on wheels may be more suitable for you. There are also plenty of DIY projects for the thrifty home decorator as well!
Intermediate: Make a statement with decals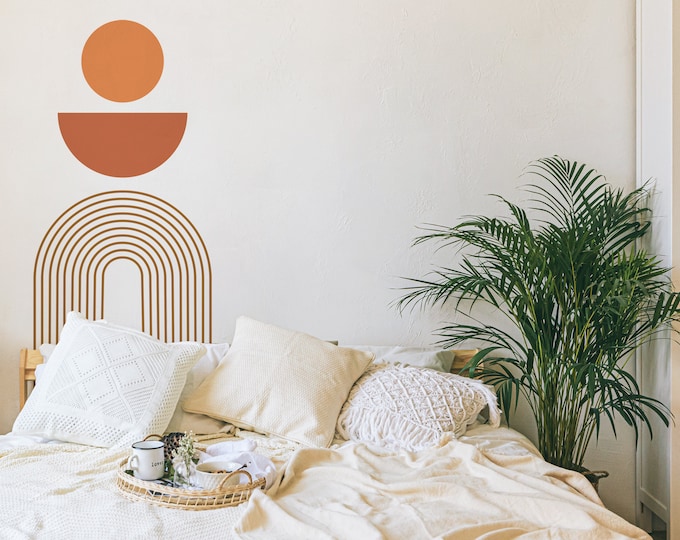 This is one of those projects that could quickly become more advanced if you want to spend the extra time. For example, you could create faux wallpaper by using a large quantity of small decals in a precise pattern. However, it's just as stylish and effective to do one large decal. Large decals still require a level of precision and measurements to get just right, but at least it's one and done!
Advanced: Banish closet clutter

Everyone's closet it is different, so that means everyone's solution will be different, too. The best place to start is with a total closet overhaul- get rid of anything you don't absolutely love anymore. That doesn't mean you have to throw it away! Check out KonMari's guide on how to discard clothing- maybe try rehoming, donating, or recycling old clothes. From there, you can properly inventory what you have so that you can tackle it in a purposeful direction for long-term organization.