Beat the Heat with these Books! According to PNWT Staff
Summer is here and when we're not outside enjoying the sunshine, we're inside trying to beat the heat! Whether you're a fan of a non-fiction book that helps you grow and excel, or you want to escape into a captivating fiction book, there's something for everyone! Take a look at some of PNWT staff's favorites and read their reviews to find your next literary adventure.
NON-FICTION
Our review: "This book taught me that it's okay to be a creative person in a by-the-book and rules-oriented organization. It's an uplifting read."
From the book: "You have a masterpiece inside you, too, you know. One unlike any that has ever been created, or ever will be. And remember: If you go to your grave without painting your masterpiece, it will not get painted. No one else can paint it. Only you."
Description: Creativity is crucial to business success. But too often, even the most innovative organization quickly becomes a "giant hairball"–a tangled, impenetrable mass of rules, traditions, and systems, all based on what worked in the past–that exercises an inexorable pull into mediocrity. Gordon McKenzie worked at Hallmark Cards for thirty years, many of which he spent inspiring his colleagues to slip the bonds of Corporate Normalcy and rise to orbit–to a mode of dreaming, daring and doing above and beyond the rubber-stamp confines of the administrative mind-set. In his deeply funny book, exuberantly illustrated in full color, he shares the story of his own professional evolution, together with lessons on awakening and fostering creative genius.
Our review: "If you're looking for a book that gives tangible guidance that you can actually act on right now, this is it. None of the information is necessarily 'complex' or 'ground-breaking,' but that's why it felt accessible- because it shares simple truths that we already understand. It was just the boost I needed to finally implement those small but impactful changes in my daily life."
From the book: "Every action you take is a vote for the type of person you wish to become. No single instance will transform your beliefs, but as the votes build up, so does the evidence of your new identity."
Description: No matter your goals, Atomic Habits offers a proven framework for improving—every day. James Clear, one of the world's leading experts on habit formation, reveals practical strategies that will teach you exactly how to form good habits, break bad ones, and master the tiny behaviors that lead to remarkable results.
Our review: "This short book gave me a different perspective on change and how to be more adaptable. It helped me to stop overcomplicating it!"
From the book: "See what you're doing wrong, laugh at it, change and do better."
Description: Cheese is a metaphor for what you want in life – be it a good job, a loving relationship, money or possessions, health or spiritual peace of mind. And the maze is where you look for what you want – the organization you work in, or the family or community where you live. This book shows how to anticipate change, adapt quickly, enjoy the change and be ready for more, so that you suffer from less stress and enjoy more success in life.
Our review: "This isn't a guide-to-quit-smoking or a preachy kind of a book telling you what you should do. Amy Morin is incredibly transparent with her story and made it more about embracing your inner strengths and wisdoms and shedding the extra baggage."
From the book: "Retaining your power is about being confident in who you are and the choices you make, despite the people around you and the circumstances you're in."
Description: Everyone knows that regular exercise and weight training lead to physical strength. But how do we strengthen ourselves mentally for the truly tough times? And what should we do when we face these challenges? Or as psychotherapist Amy Morin asks, what should we avoid when we encounter adversity? Through her years counseling others and her own experiences navigating personal loss, Morin realized it is often the habits we cannot break that are holding us back from true success and happiness. Indulging in self-pity, agonizing over things beyond our control, obsessing over past events, resenting the achievements of others, or expecting immediate positive results holds us back. Morin writes with searing honesty, incorporating anecdotes from her work as a college psychology instructor and psychotherapist as well as personal stories about how she bolstered her own mental strength when tragedy threatened to consume her.
Our review: "Imposter Syndrome is loosely defined as doubting your abilities, feeling like a fraud, and attributing all your accomplishments to 'luck' or the help of others. One section I enjoyed the most was called Changing Your Narrative, which focuses on identifying the negative 'stories' you tell yourself, and changing how you interpret your success."
From the book: "Impostor syndrome affects high-achieving professionals who who are seemingly successful. However, when experiencing imposter syndrome, you are unable to enjoy your success and believe that this success is precarious."
Description: Stop letting impostor syndrome hold you back! This guided workbook of interactive exercises and research-backed activities will help you conquer self-doubt, realize your true worth, and enjoy your success. How many times have you thought that everyone is crushing it except you? How often have you looked at one of your accomplishments and attributed it to luck or the help of others? It can be difficult to acknowledge our own successes and skills, and overcome the feeling of being an impostor. But moving past that feeling is crucial to continuing down the path to even greater success and happiness. Packed full of research- and therapy-backed exercises, prompts, and activities, this interactive workbook will help you identify the root causes of your impostor syndrome, recognize your natural skills and strengths, gain the confidence to lead, speak up for yourself, and feel comfortable receiving and giving praise
FICTION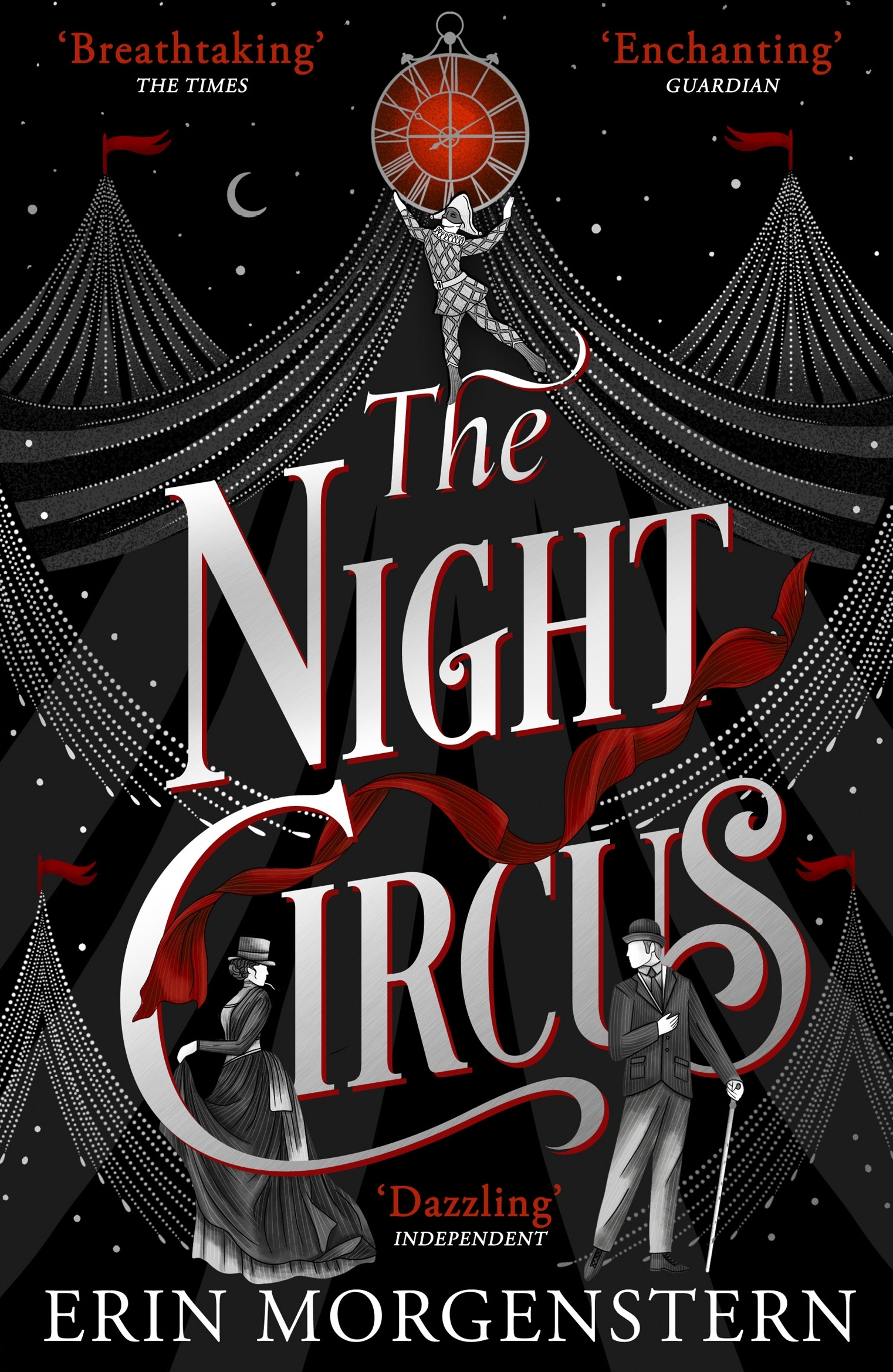 Our Review: "Beautiful, dream-like prose about a magical duel disguised as a love story… What's not to love?"
From the Book: "You think, as you walk away from Le Cirque des Rêves and into the creeping dawn, that you felt more awake within the confines of the circus. You are no longer quite certain which side of the fence is the dream."
Description: The circus arrives without warning. No announcements precede it. It is simply there, when yesterday it was not. Within the black-and-white striped canvas tents is an utterly unique experience full of breathtaking amazements. It is called Le Cirque des Rêves, and it is only open at night.
But behind the scenes, a fierce competition is underway: a duel between two young magicians, Celia and Marco, who have been trained since childhood expressly for this purpose by their mercurial instructors. Unbeknownst to them both, this is a game in which only one can be left standing. Despite the high stakes, Celia and Marco soon tumble headfirst into love, setting off a domino effect of dangerous consequences, and leaving the lives of everyone, from the performers to the patrons, hanging in the balance.

Our review: "He was so angry but so loveable at the same time."
From the book: "We always think there's enough time to do things with other people. Time to say things to them. And then something happens and then we stand there holding on to words like 'if'."
Description: Meet Ove. He's a curmudgeon—the kind of man who points at people he dislikes as if they were burglars caught outside his bedroom window. He has staunch principles, strict routines, and a short fuse. People call him "the bitter neighbor from hell." But must Ove be bitter just because he doesn't walk around with a smile plastered to his face all the time?
Behind the cranky exterior there is a story and a sadness. So when one November morning a chatty young couple with two chatty young daughters move in next door and accidentally flatten Ove's mailbox, it is the lead-in to a comical and heartwarming tale of unkempt cats, unexpected friendship, and the ancient art of backing up a U-Haul. All of which will change one cranky old man and a local residents' association to their very foundations.
A feel-good story in the spirit of The Unlikely Pilgrimage of Harold Fry and Major Pettigrew's Last Stand, Fredrik Backman's novel about the angry old man next door is a thoughtful exploration of the profound impact one life has on countless others.

Ur review: "Gorgeous world building from an author who is in love with and specific with his words."
From the book: "Day one: My name is Kvothe. I have stolen princesses back from sleeping barrow kings. I burned down the town of Trebon. I have spent the night with Felurian and left with both my sanity and my life. I was expelled from the University at a younger age than most people are allowed in. I tread paths by moonlight that others fear to speak of during day. I have talked to Gods, loved women, and written songs that make the minstrels weep. You may have heard of me."
Description: So begins a tale unequaled in fantasy literature—the story of a hero told in his own voice. It is a tale of sorrow, a tale of survival, a tale of one man's search for meaning in his universe, and how that search, and the indomitable will that drove it, gave birth to a legend.

Our review: "It always transports me into Oz and provides an escape from reality."
From the book: " 'That proves you are unusual,' returned the Scarecrow; 'and I am convinced that the only people worthy of consideration in this world are the unusual ones. For the common folks are like the leaves of a tree, and live and die unnoticed.' "
Description: A stunningly beautiful clothbound hardback edition of one of the most famous magical journeys in the world.
Follow the yellow brick road! Dorothy thinks she is lost forever when a terrifying tornado crashes through Kansas and whisks her and her dog, Toto, far away to the magical land of Oz. To get home Dorothy must follow the yellow brick road to Emerald City and find the wonderfully mysterious Wizard of Oz. Together with her companions the Tin Woodman, the Scarecrow and the Cowardly Lion whom she meets on the way, Dorothy embarks on a strange and enchanting adventure.
Our Review: "Zoya is a Russian historical fiction" about a spirited woman and the adventures and perils of her life.
From the book: "Who doesn't need hope in their lives: hope that something can change, that someone cares, that not only bad things happen unexpectedly but good things can happen to us too?"
Description: Against the backdrop of the Russian Revolution  and World War I Europe, Zoya, young cousin to  the Tsar, flees St. Petersburg to Paris to find safety. Her entire  world forever changed, she faces hard times and joins the Ballet Russe in Paris. And then, when life is kind to her,  Zoya moves on to a new and glittering life in New York. The  days of ease are all too brief as the Depression strikes, and  she loses everything yet again. It is her career, and the man she  meets in the course of it, which ultimately save her, as she  rebuilds her life through the war years and beyond. And it is  her family that comes to mean everything to her. From the roaring twenties to  the 1980's, Zoya remains a rare and spirited  woman whose legacy will live on.