Coffee in Kitsap: As Told By PNWT Staff
Grab your favorite mug and join us on a caffeine-fueled adventure through the cozy corners and hidden gems of Kitsap County. Whether you're a devoted coffee connoisseur, a casual sipper, or just someone in search of a delightful hangout, this blog is your ultimate guide to the best coffee places in the area. From bustling cafes to charming stands, we're on a mission to uncover the stories, flavors, and vibrant communities that make each spot unique. So, lace up your comfy shoes and get ready to explore the world of aromatic brews, decadent treats, and the friendly faces behind the counters. Let's dive into a world where every cup tells a tale and every sip brings a smile!

Coffee Oasis – Multiple Locations in Kitsap
Since its inception in 1997, The Coffee Oasis has stood as a beacon of hope and opportunity for youth aged 13-25 in Washington state. Operating as a Christian non-profit organization, The Coffee Oasis is dedicated to restoring hearts, souls, minds, and bodies of young individuals facing challenges like abuse, homelessness, depression, and addiction. Offering safe spaces, mentorship, outreach, job training, and more, their mission is to empower youth and reshape the community's future. Beyond coffee, their impact is profound, providing resources and services regardless of religious beliefs, race, gender, or orientation. 100% of the proceeds from the cafés and coffee go towards supporting The Coffee Oasis youth programs. This organization is an inspiring example of compassion in action, where every cup you buy contributes to creating a better tomorrow for these young souls in need.
From our staff: "A wonderful place to make a difference! We love supporting places that support our community."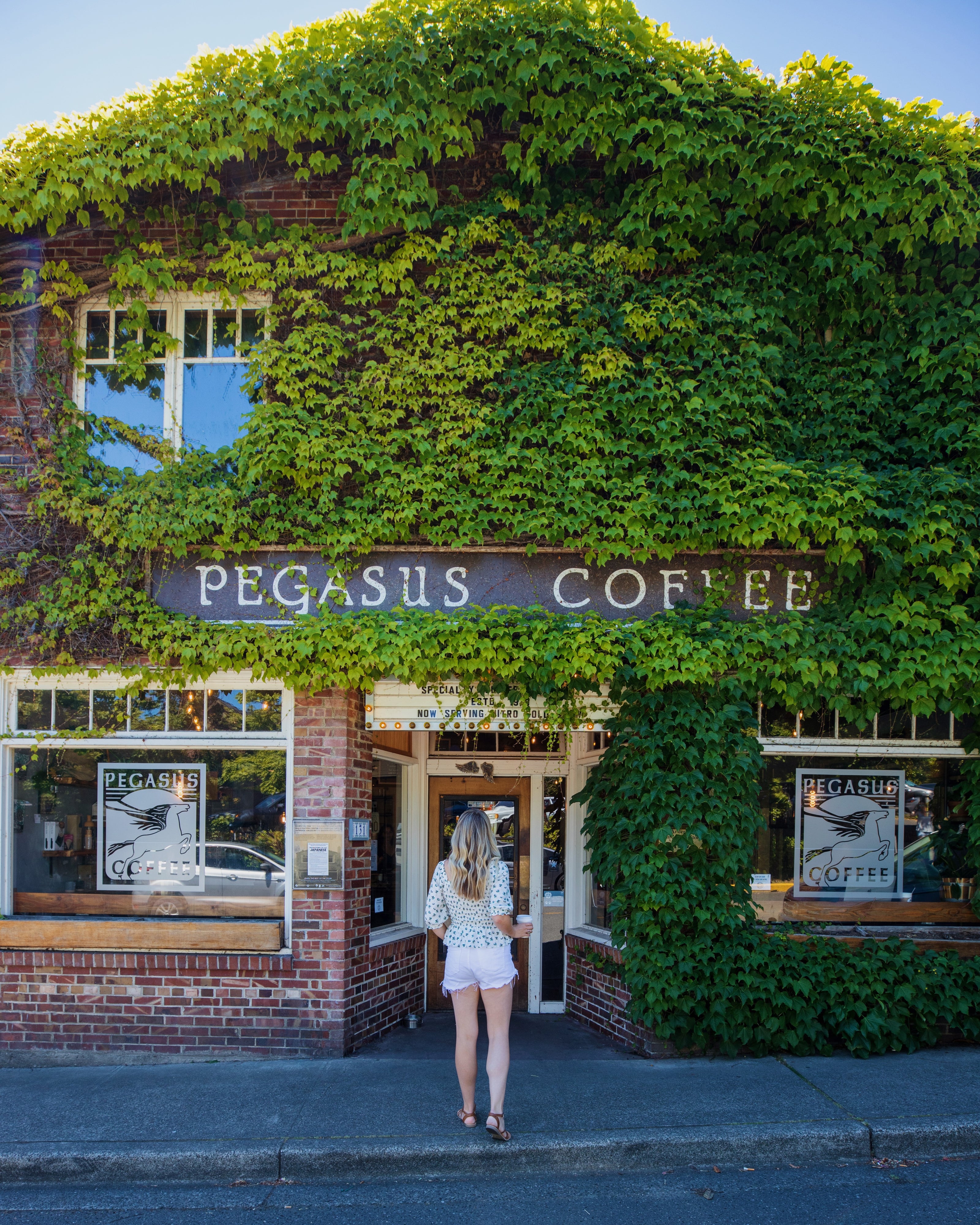 Pegasus Coffee House – Bainbridge Island
Step into the timeless realm of Pegasus Coffee House – an institution that has been etched into Bainbridge Island's history since 1980. Recognized as one of "The Best Independent Coffee Shops In The World" by the Financial Times in April 2022, Pegasus has long been a hub for vibrant discussions, live performances, and the local arts scene. What sets Pegasus apart is their commitment to sustainability and community connections. Of the many, their partnership with Ometepe, an island in Nicaragua, stands as a testament to their dedication to fostering positive change beyond coffee cups. Pegasus' involvement in art patronage has also transformed them into a cultural haven where musicians, poets, and artists find their stage. Beyond the brick-and-ivy exterior of their historical establishment built in 1937 lies a place that cherishes tradition, art, and the simple joy of a great cup of coffee. Not to mention, they're the proud proprietors of Dude's Donuts, adding a delightful dimension to their offerings. Through decades of evolution and innovation, Pegasus Coffee House continues to embrace its legacy while inviting you to be a part of its ever-growing story.
From our staff: "Such a cool place! The owner is a super nice guy with a really impressive knowledge of coffee. He was so willing to teach me about it and answer my questions!"
303 Coffee Co. – Bremerton
Marking its impressive one-year milestone in the summer of 2023, 303 Coffee Co. is a fresh and exciting addition to the local scene. This vibrant drive-thru coffee shop is all about inventive drinks that reflect their colorful spirit. Don't miss out on the "Hot Girl Summer Spritzer," a dazzling mix of watermelon, guava, and pink lotus, and consider adding edible glitter to any lotus or Red Bull drink for a touch of sparkle. Indulge in the bright "Blue Mist Lotus" with blue lotus, pear, vanilla, and coconut milk, topped with pineapple juice, or savor the "Mounds Bar Mocha" adorned with caramel sauce cold foam. Treat your four-legged friend to a pupsicle, a canine-friendly delight made with Greek yogurt, peanut butter, and banana. And for those looking to pair their drink with a bite, their sliced turkey, egg, and cheese breakfast sandwiches, available on croissants, bagels, or English muffins, are sure to satisfy. Supporting local and embracing creativity, 303 Coffee Co. welcomes you to join in the journey of a burgeoning business that's all about flavor and fun.
From our staff:  "The owners are wonderful, they genuinely care about our order, and the coffee is always consistent."
BV Espresso – Bremerton
BV Espresso's locally owned drive-thru coffee stand offers a convenient caffeine fix, made by expert baristas and served with a smile. Just a short walk from the Kitsap Fairgrounds and Event Center, it's a community favorite. The baristas are experts in their craft, crafting drinks with skill and passion. Don't miss their candy-topped creations or their the vibrant creations like the Dragontini with dragonfruit, guava, raspberry, and pink lotus. Try the indulgent iced white chocolate, coconut, and cheesecake Americano with cream. And let's not forget their house-made whipped cream that elevates every sip! BV Espresso brings charm and tasty refreshment to your daily routine.
From our staff: "They are super nice and friendly, coffee is delicious and they have a variety of other drinks. too. You can also text them your order and they will have it ready for you when you get there!"
Cafe Corvo – Bremerton
Cafe Corvo lives by the motto "Coffee. Kindness. Community." This coffee location offers expertly crafted coffee and espresso in a warm neighborly atmosphere, serving up a delightful selection of pastries from beloved local bakers. Embracing the unique spirit of Bremerton, this café is a tribute to the arty, crafty, sassy, and wonderfully weird vibe of the city. Committed to building a thriving community, Cafe Corvo sources from vendors within twenty-five miles and partners with local bakeries like McGavin's and Dude's Donuts. Their dedication extends to supporting regional roasters as well, offering whole bean coffee for sale from places like Pegasus Coffee, Caffe Cocina, Boon Boona Coffee, Campfire Coffee, Kuma Coffee, Lighthouse Roasters, and Cab Coffee Roasters. Their inclusivity shines through, as they champion diversity and accessibility, making sure everyone feels at home. Cafe Corvo is a celebration of coffee, camaraderie, and the colorful spirit of Bremerton.
From our staff: "1) Only place that makes a proper Cortado 2) Carry Monin brand syrups 3) Doesn't have 500 drinks on their menu 4) Sells hyper-local beans and baked goods 6) Welcomes ALL THE DOGS!"
Over the Moon Coffee Roasters – Kingston
Over The Moon Coffee Roasters is an endearing small batch coffee roastery that radiates warmth, creativity, and exceptional flavor. A family-owned treasure, they embrace specialty coffee and house-made breakfasts They aren't just about coffee; they're about collaboration, offering local artists the canvas to showcase their art for sale or simply to share. Partnering with Laughing Dog Kitchen and Dude's Donuts, they bring wholesome sweets to your cup. Quiches made by their talented baker are a treat, and their house-made cookies and brownies disappear quickly, so don't dawdle. Past specialties have included a cold brew steeped for 20 hours to deliver a flavor-packed refreshment. Their seasonal drinks – like the Tea Rose, a raspberry rose iced latte, and the Ostara with lavender, white mocha, cinnamon, and nutmeg – add an imaginative touch to sips. The My My Matcha and Mrs. Klaus Mocha are invitations to savor, while the Holly King, a spiced peach decaf black tea latte, adds a dash of merry brightness.
From our staff: "Quirky and fun!"
Lighthouse Espresso – Port Orchard
At Lighthouse Espresso, convenience and cheerfulness unite in a compact and unique drive-thru coffee stand. A smile is a staple, with their lighthouse stand always ready to serve up great drinks – from classic favorites to one-of-a-kind delights. The perennial favorite, "Pumpkin Spice Latte," shines all year, boasting the allure of pumpkin cold foam and salted caramel drizzle. The "Ocean Breeze Lotus" refreshes with its blend of blue lotus, coconut, lime, and lemonade. Hungry? Fear not – their extensive food options cover everything from quick snacks to hot treats, inclusive of gluten-free and vegan choices. Seasonal local Dude's Donuts sweeten the deal. Feeling adventurous? Dive into the seasonal "Luck of the Irish" with white lotus, green apple, pear, and a sprinkle of glitter. But it's not just the menu that makes Lighthouse Espresso special; it's the baristas who add an extra layer of greatness. Despite occasional lines, this stand has a dedicated following, with regulars stopping by multiple times a day, forging a personal connection with the team.
From our staff: "Great coffee, quick and friendly baristas. Great menu options with fun season menus and a daily special always worth getting."
"Every time I go there I order their special of the day and they have never disappointed me."
Caffe Cocina – Poulsbo
Caffe Cocina is a café, a community partner, and a specialty coffee oasis. With a commitment to quality, they source Direct and Fair Trade organic coffee, roasting locally for distinctive flavors. Their farm-to-table ethos shines through partnerships with local farmers, while an array of Italian-inspired coffee blends and diverse beverages cater to every taste. Serving more than just artisanal coffees, they offer options from drinks like teas, fruit ciders, Italian sodas, and fresh fruit smoothies to treats like Acai bowls and gluten free or vegan muffin and pastry options. Their staff's passion for coffee matches their dedication to top-notch service, and now, their coffees are available through subscriptions, delivering directly to your door. Caffe Cocina is the embodiment of flavor and dedication in a single cup.
From our staff: "They only source Direct & Fair Trade organic coffee, roasted locally to ensure quality. Staff is extremely friendly and caring. Overall good vibe. Live music and great food, too."
"The people who work here are super fun! They always give great drink recommendations and the wall of plants are really lovely."
All Star Espresso – Silverdale
All Star Espresso is like the caffeine-fueled sidekick to the ALL STAR family entertainment center. Since 2004, they've been jazzing up the scene with quick, drive-thru convenience and friendly vibes. Bagels, pastries, and sandwiches are all part of the menu, but let's talk about the real stars: their signature drinks. The "All Star" blends creme de menthe, peppermint, and milk chocolate, while the "5 Star" rocks white chocolate, caramel, and vanilla bean. And when seasons switch, they roll out winners like "Love in a Cup," "Shamrock," "Cake Batter," "Pumpkin Cheesecake," and "Maple Madness." Swing by for a sip and something new!
From our staff: "Yummy and consistent!"
Austin Chase Coffee is a beloved local location known for its warm and welcoming vibe. Whether you're in a rush or looking to unwind, their mouthwatering quiches, breakfast sandwiches, and lunch options cater to all tastes. Indulge in custom coffees, creamy mochas, invigorating espressos, and refreshing smoothies. Don't forget to treat yourself to their tempting array of pastries and muffins. And when seasons change, so do their drinks – think pumpkin spice latte and Fireside Butter Rum Mocha. With its cozy vibe and tasty menu, Austin Chase Coffee isn't just a coffee shop – it's your go-to for flavors and comfort.
Recommended by our staff: Chai or B&W Mocha